Planning your dream kitchen? Whether your current kitchen layout needs renovating or you simply want to refresh a tired colour scheme, now is the perfect time to create the kitchen of your dreams. But what's hot in the world of kitchen design?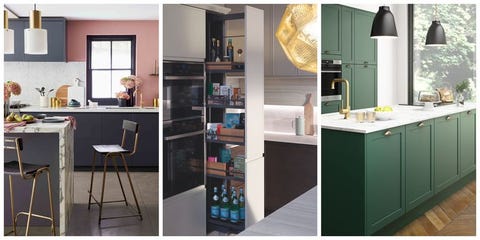 For 2019, the kitchen will perfectly blend form and function and technology will become increasingly present, helping to make day to day life a little easier.
'The kitchen is the heart of the home for millions so it makes sense that there is a strong desire to make it the dream space, whether that's with an ultra-modern look, traditional country style or handcrafted wood effect,' says Mike Lavers, category manager for kitchens at B&Q.
As the hub of all activity, the kitchen is evolving to make living and cooking as efficient as possible while looking aesthetically impressive. Matt Phillips, head of UK operations at Rotpunkt, believes furniture will be 'defined by difference' with a mix of standout finishes and materials to identify different pieces of furniture and to create zonal kitchen schemes that are not restricted by four walls or customary layouts.

Meanwhile, the experts at Cosentino talk about the idea of the 'anti-kitchen'. The kitchen is still a space to love and cherish, but one that can be easily hidden away so as not to impose on a luxurious living area.
So with this in mind, we've delved deep to uncover some of the biggest and emerging trends for the year that will help you plan your dream kitchen. From open shelving and glass fronted cabinets, to banquette style seating and dark colour palettes, get all the kitchen inspiration you need right here with the best kitchen trends for 2019.1Bespoke Pantries and Larders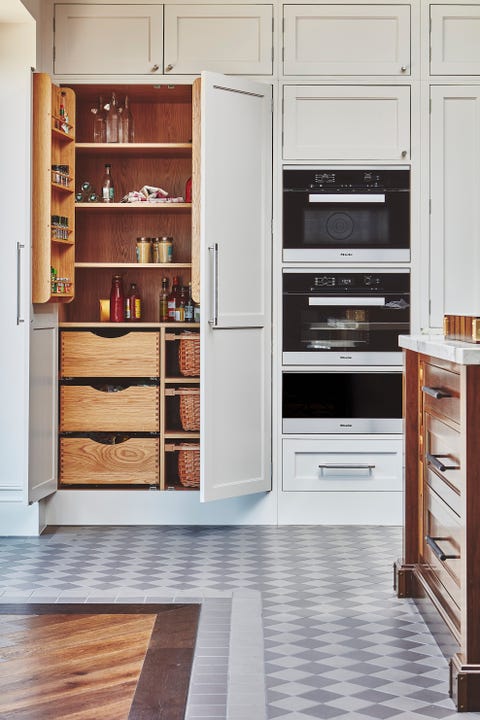 'When redesigning your kitchen, a bespoke larder is still one of the biggest trends this year and next,' reveal Naked Kitchens. 'A must–have in the modern kitchen, with storage at the right temperature and ingredients easily accessible, a well-designed bespoke larder is also a thing of great beauty.'
Pictured: Chester Row kitchen, Naked Kitchens2Kitchen Islands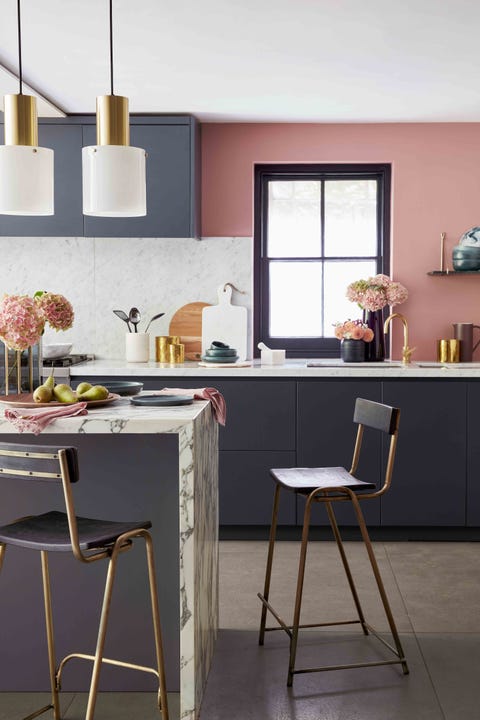 'The kitchen island is synonymous with a luxurious and sociable kitchen,' says Mike at B&Q. Not only a great place to perch, dependent on its design it can be used for extra storage, and adding bar stools can provide a casual dining area.
Looking for an alternative to an island? A peninsula is attached to a wall so you only sacrifice access to one side but it provides many of the same advantages. 'Peninsula models work especially well in single wall or L-shaped layouts,' adds Mike.
Speaking of islands and peninsulas, Cosentino predicts that waterfall worktops – a surface that appears to flow over the edge of a worktop, covering the side and reaching the floor – will continue to grow in popularity.
ADVERTISEMENT – CONTINUE READING BELOW
3Benches and Banquette Seating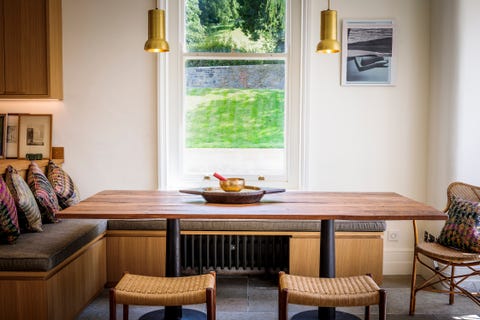 From built-in benches to banquettes and booths, the kitchen is becoming a communal space for lounging. 'We are seeing an emerging trend with banquette style seating, in an area where kitchen islands and breakfast bars have dominated,' explain Matt Prall and Stephen Garland of Papilio. 'Banquette style seating is a fantastic use of space and offers a more comfortable seating to relax and get some much needed headspace in this fast paced world we live in.'
Pictured: The Georgian Manor House, Papilio4Glorious Greens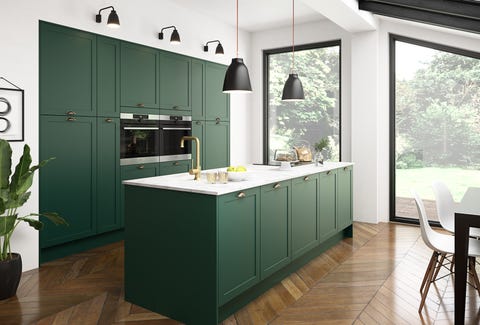 Naked Kitchens predicts a 'new rich blue-green emerging' in kitchens this year, with Magnet Kitchens also heralding green as a key colour.
'Green kitchen cabinetry is set to be a new, key style,' says Hayley Simmons, head of merchandising at Magnet. 'Green can be equally dramatic and luxurious when used in the kitchen. As a thoroughly modern look, deep forest greens can be balanced out with latte shades, smoky glass and soft metallics.'

A combination of white marble and brass through lighting, worktops and accessories, will help to bounce light around the space and offset heavier hues.
Pictured: Dunham in Forest Walk, Magnet KitchensADVERTISEMENT – CONTINUE READING BELOW
5Sophisticated In Black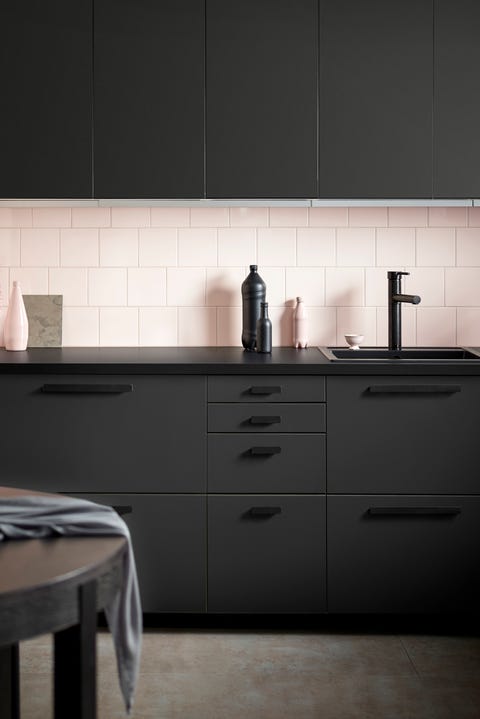 Tom Howley has reported a sharp increase in orders of black kitchens, reflecting the trend for using darker colours in the home, and Matt at Rotpunkt also notes that searches for black and dark colours are up 93 per cent in the last six months.
'2019 interior colour trends will embrace the darker colour palette, showing fewer primary colours and a greater emphasis on black which is contrasted by rich coffee browns, shades of grey, taupe and biscuit beige,' Matt explains.
Pictured: Ikea6Versatile Navy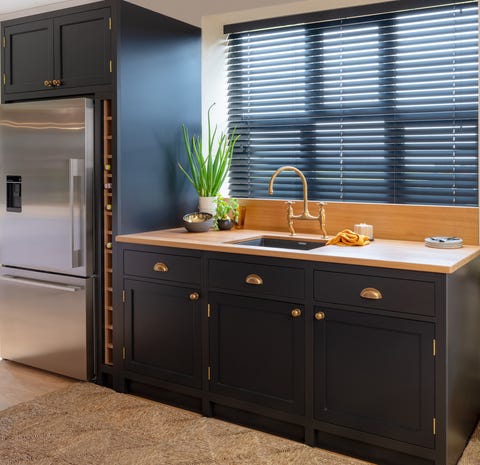 But don't underestimate the versatility of navy. 'We have noticed an increase in darker and more vibrant colours in the kitchen, but it's navy that continues to remain popular,' say The Shaker Kitchen Company. 'Its versatility means it's a colour that can adapt to both modern and traditional surroundings.'
Pictured: Oyster Catcher kitchen, Naked KitchensADVERTISEMENT – CONTINUE READING BELOW
7Bespoke Storage
Ceiling height cupboards and tall units with overhead cabinets offering reams of additional storage will be a big trend, says Andy Briggs, interior designer at Optiplan Kitchens.
'Multifunctional and hidden storage will be an essential feature for both compact and large kitchens in the coming year and the demand for bespoke storage is expected to rise,' says Joanne Emery, marketing manager at Burbidge.

Pictured: Opulent look, Life Kitchens8Reeded Glass Cabinets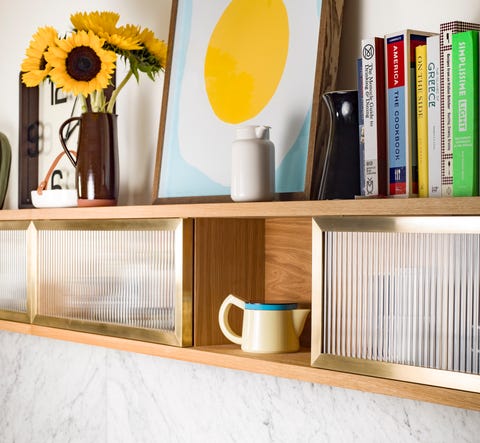 Open shelving and glass fronted cabinets allow homeowners to showcase their personalities with displays of quirky objet d'art.
'Reeded glass will be everywhere this year,' reveal Papilio. 'This finish adds a wonderful layer of texture to a space, a great tool for the kitchen to mix up all those straight lines and smooth surfaces. The reeded effect works well with natural materials. Plus the glass is semi opaque so you reveal a glimpse, not the entire contents beyond.'

Joanne at Burbidge also speaks of 'pretty and practical glass fronted dressers and cabinets' making headway in kitchen design. 'These stylish solutions allow decorative items and crockery to be beautifully displayed behind glass; adding a visual and personal touch to a contemporary kitchen,' she adds.
ADVERTISEMENT – CONTINUE READING BELOW
9Multifunctional Trough Sink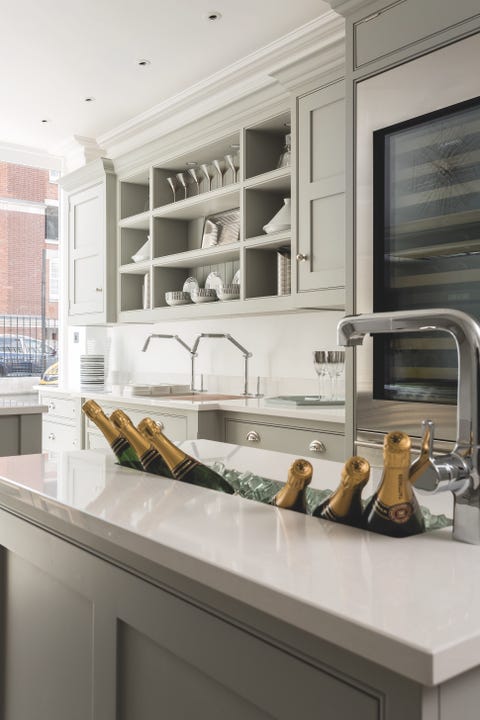 'Why have one use for a sink when you can have a multifunctional trough?' is what the team at Papilio asked last year. Well the multi-purpose integrated trough sink hasn't lost popularity.
With entertaining in the kitchen being a key function, wine racks and wine coolers are now seen as kitchen must-haves.
But you can go one step further. 'A relaxed, modern country kitchen is a true marker of luxury, and this sunken champagne bath only goes to highlight that,' says Tom Howley, creative design director of Tom Howley.
Pictured: Sunken Champagne Cooler, Tom Howley10Single-Slab Splashbacks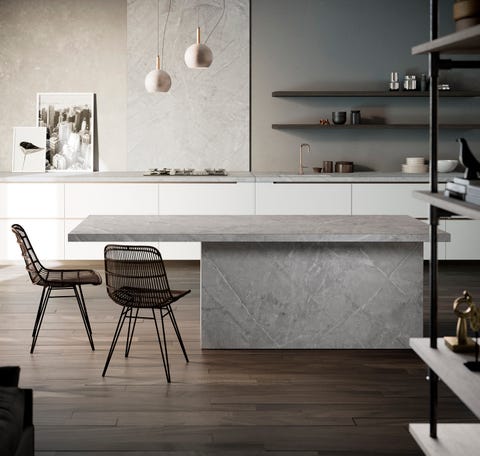 Splashbacks are no longer resigned to just being practical elements – now, designers are using them to create real focal points in the kitchen.
Similar to how you would paint or wallpaper a section to create a feature wall in your living room, Cosentino predicts a growing demand for single slab splashbacks as opposed to standard tiling in the kitchen. Elegant and simple, a single slab is not only stunning but 'offers practical cleaning benefits as grouting between tiles can be difficult to keep clean'.
Pictured: Dekton® Vera, Natural Collection, CosentinoADVERTISEMENT – CONTINUE READING BELOW
11Feature Taps
Feature taps will continue to grow in popularity for the coming year. 'With the vast array of finishes and styles now available, the tap is as important to the design as the work surface or cabinetry materials,' explain Papilio. 'Our clients love this Double Gooseneck Regulator by Waterworks in a brass finish with metal wheel handle inspired by industrial controls from the early 1900s.'
Speaking of taps, tap technology has also stepped up a notch. 'We now have instant boiling, filtered and sparkling water for all applications, sink or pot filler. Plus with the availability of finishes ramping up there is one to compliment every material palette,' they add.
12Broken-Plan Living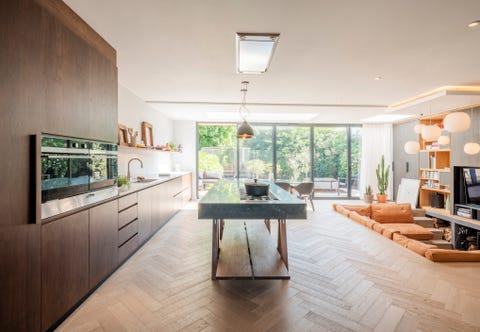 'Broken-plan furniture schemes are dictating the kitchen market and these influences are a welcome preference to the outdated uniform kitchen design in terms of construction, material, finish and space planning,' says Matt at Rotpunkt. He explains that there are trends towards 'hardworking furniture' like room dividers, multipurpose workstations and display cabinetry through to asymmetrical layouts and wall-hung solutions.
Matt adds: 'By playing with different eye-lines, visual weights and modular arrangements, modern kitchen furniture will focus on free-thinking in 2019: creating a feeling of eclectic balance that is dynamically unrestricted.'
Pictured: Highgate Kitchen, Naked KitchensADVERTISEMENT – CONTINUE READING BELOW
13Sustainability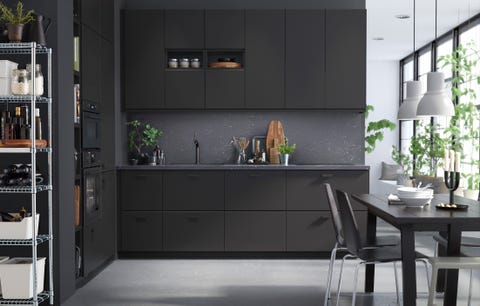 Developments in design and an increased focus on sustainability means the need for quality furniture that is environmentally friendly remains a priority for many, and Matt at Rotpunkt says we'll be seeing durable materials and designs continue to grow in popularity.
For Ikea, Bold Sustainability is a trend that celebrates bold and striking environmentally-friendly interiors, highlighting how sustainable living can still allow for personal expression with standout designs that use recycled or reclaimed materials.

'For those looking to make a bigger statement, the bold black KUNGSBACKA kitchen range is the perfect focal-point and is also made from recycled wood and covered with a plastic foil made using recycled PET bottles, reducing waste and giving plastic a new use in the home,' explains Clotilde Passalacqua, interior design leader at Ikea UK & Ireland.

Pictured: KUNGSBACKA kitchen range, Ikea14Glamorously Grand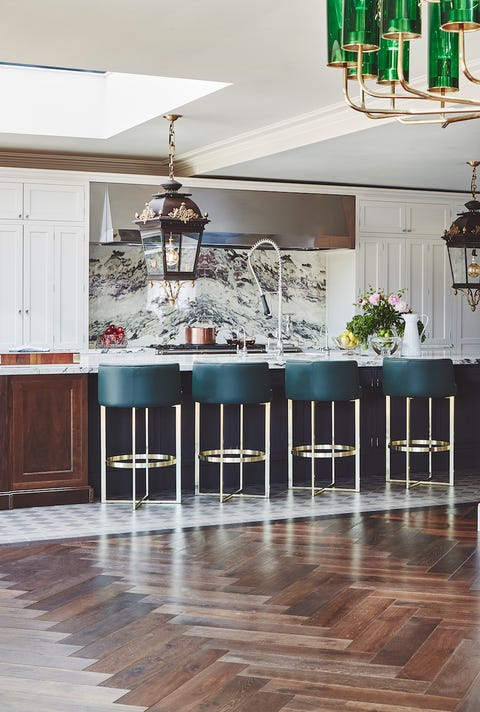 'Grand is a milder take on the exuberant maximalist trend that we are seeing,' reveal Naked Kitchens. 'A grand kitchen is a balance of richness and restraint where luxurious materials reign. Exposed timbers in walnut and oak bring excellent colour and patination to a kitchen with a continuous grain in the cabinetry. Glamorous lanterns and pendants become the new chandeliers.'
Meanwhile, Matt at Rotpunkt says there will be a focus on the 'jewellery' of a kitchen, making a feature of exclusive handles and knobs and push-to-open fittings.
Pictured: Chester Row kitchen, Naked KitchensADVERTISEMENT – CONTINUE READING BELOW
15Concealed Technology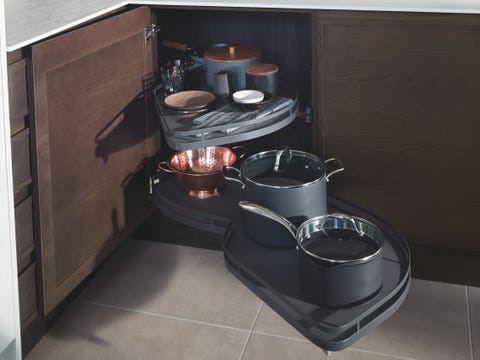 There's a trend in concealing key technology pieces such as induction hobs, coffee machines, smart appliances and food gadgetry. Andy at Optiplan says this even extends to moveable work-surfaces, pull down units for unreachable spaces, hidden wall panels and retractable doors.
'Sliding doors and hidden drawers are not just extremely versatile in enabling you to discreetly tuck away a huge variety of appliances, even complete utility rooms, larders and wine cabinets, but also maximises every available space,' explain the team at Chamber Furniture.
'I believe technology will inevitably play a key role in the future of kitchen design,' says Daniele Brutto, co-founder of Hub Kitchens. 'For example, TM Italia currently has a kitchen that is controlled via a desktop application, so the tap rises and falls at the click of a button, the sink lid opens and closes on demand and the fridge doors can be opened without even touching the door. I'm sure this type of software technology will be the future for kitchen designs to coincide with the evolution of modern lifestyles.'
Pictured: Opulent look, Life Kitchens16The Smart Kitchen Becomes a Necessity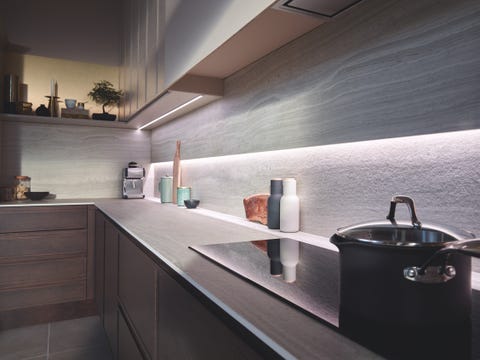 'The one room which you spend most of your life in should be the room that keeps you most up to date,' says Andy at Optiplan. 'Kitchen tech is endless and will keep on evolving, but smart appliances, built-in Bluetooth speakers and automatic lighting will soon become everyday necessities.'
Pictured: Opulent look, Life KitchensADVERTISEMENT – CONTINUE READING BELOW
17Sleek Minimalism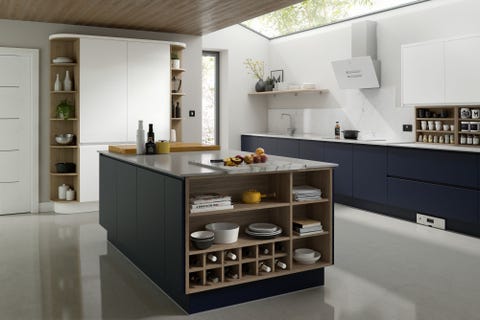 Sleek, minimalist, streamlined and pared-back are buzzwords to look out for because this year space, clean lines and long stretches of uncluttered surface is a key, desired look.
'One of the most enduring kitchen trends this year which we predict to extend long into 2019 is the uncluttered streamline industrial style,' say Chamber Furniture. 'The timeless appeal of pared-back and seamless uncluttered working areas will continue to be in vogue with each kitchen proving to be as practical as aesthetically pleasing.'
Pictured: Handleless Kitchen, Wren Kitchens18Rustic Timber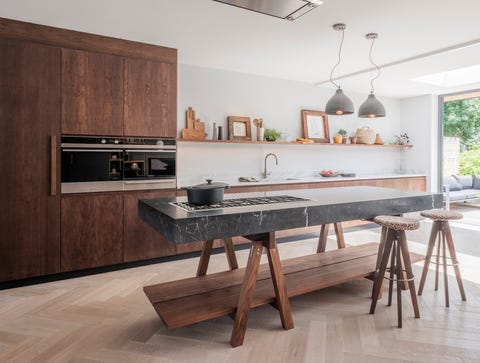 Papilio note that bare wood surfaces favouring oak (like the straight grained variety) and walnut, a traditional timber rich in tone and texture, will continue to rise in popularity.
Additionally, mixed materials – with textures such as granite, quartz and timber – is also worth noting. Try combining a variety of tactile finishes including wood cabinetry and stone-finish work surfaces.
Pictured: Highgate Kitchen, Naked KitchensADVERTISEMENT – CONTINUE READING BELOW
19Marvellous Marble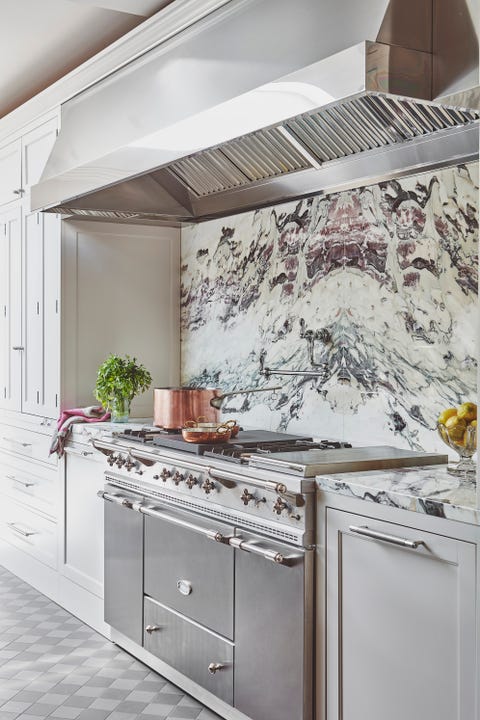 The marble trend shows no signs of waning, helping to create a kitchen full of character.

'Recognised by its exquisite veining, marble is the material that oozes elegance and sophistication,' explain Naked Kitchens. 'Its understated beauty combined with exceptional strength makes marble a perfect choice for kitchen worktops.'
Optiplan Kitchens add: 'With peak performance qualities, the naturally cool surface of marble is great for hands-on work with pastry. Suited to both the classic and contemporary designs, marble is a must-have material for a stylish kitchen.'
Pictured: Chester Row kitchen, Naked Kitchens20Merging Old and New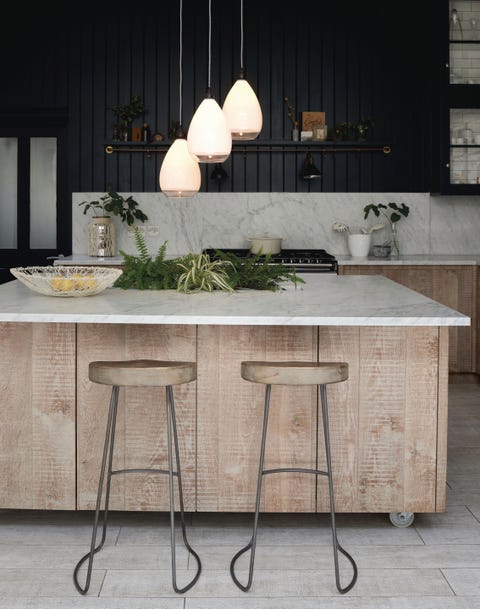 The team at Papilio say we'll see a move towards kitchens that comprise of individual pieces of furniture rather than all of the same.
Aside from adding intrigue to a design, it allows vintage pieces to be worked in. 'We are moving towards a sustainable future and as such we will see more life breathed into old and existing pieces,' they explain.
Pictured: Wellington White & Clear Glass Pendant, Fritz Fryer