Opulent furnishings from Luxxu, including 'Charla' dining chairs gathered around the 'Beyond' dining table with the dramatic 'Babel' suspension lamp above the table. Other furnishings are the 'Spear' consule combined with the 'Crown' mirror and Tycho sconces.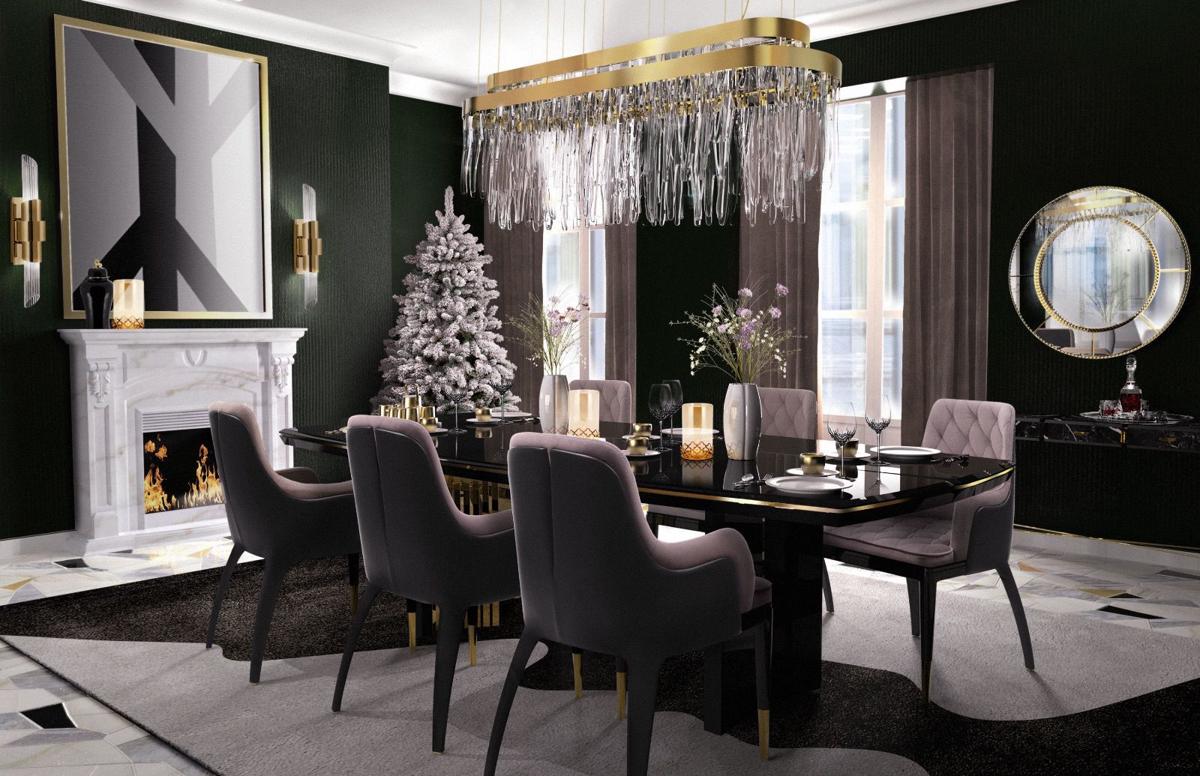 'Ella' is an unusual black suspension lamp handmade in brass with aluminum lampshades comes in a 6- or 15-arm version from DelightFULL
Essential Home's mid century sideboard is solid walnut with gold-plated brass doors and a marble top.
The Lapiaz sideboard from Boca do Lobo has a surface that resembles a freshly cracked stone with a unique gold interior and unique details.
The Jinya sideboard is a chic combination of mango wood and contrasting hairpin legs for a vintage industrial look. Adjustable shelves, a cutlery drawer and soft closing doors make it practical, too. From Vênoor Living.
Mixing and matching is the modern approach to furnishing a dining room. It makes the room feel more personal and stylish. It should be a feast for the eyes, as well as the appetite.
Interior designers suggest choosing two different finishes for table and chairs that contrast and complement each other. Remember the look should be harmonious, not hodge-podge.
Consider:
1. Budget, size of the space and your style.
2. Reach for the measuring tape and measure the space. Leave 36 to 48 inches on all sides away from walls and other furniture. You'll need room to pull out the chairs and have easy traffic flow around the table.
3. Choose a shape.
Round —Fits in a smaller space; shape encourages conversation.
Rectangular — Most popular shape; seats the most people; allows for bench seating options
Square — Works well in a small room; seats fewer people
Modern tables often have an extension leaf (or two) built into the table, so you don't have to fetch it from under the bed when you're hosting Thanksgiving or Christmas dinner.
4. Choose comfortable chairs. Sit down, squirm around, lean back — how does it feel? Slide the chair up to the table.
You need to know:
Standard table height is 30 inches.
Standard seat height is 18 inches.
Measure 12 inches between the top of the seat and table bottom. (Allow for the table apron, if it has one.)
Rule of thumb is 24 inches of room per chair. A 72-inch long table can seat six; a 96-inch seats eight; and 120-inch seats 10.
5. Upholstered or wood chairs? A wood chair is often more narrow, allowing more chairs to fit at the table; simple to clean. An upholstered chair is comfortable and invites lingering; treated fabrics make wiping away spills and stains easier; myriad choices in colors, patterns, texture, etc.
For the arm chair, leave 7 inches between the chair arm and table.
---
A sideboard
The classic storage piece for the dining room, use a sideboard to tuck away silverware, napkins, platters, serving dishes, etc. It also makes a perfect surface for serving a buffet, displaying a showstopping dessert or for a holiday-themed vignette.
Sideboards are available in three sizes — small, medium and large. Consider the size of your room and dining room table, as well as how much storage required for dining accessories.
Consider the finish and style of the sideboard. A sideboard also can make a fashion statement, complementing or contrasting other furnishings.